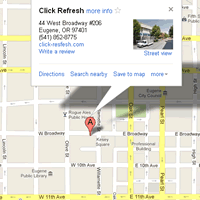 You have a website.  Its purpose is to be seen.  No matter how dazzling the content of your site may be, it will only bring you business if people can find it.
Getting found in the mass of information the World Wide Web dispenses requires smart use of SEO techniques.   Make the products and services you offer easily accessible to the people who are looking for them.  We can optimize your site to increase your visibility, your traffic, and ultimately, your business.
Local Search Optimization
Does your company appear in the top local search results? In our mobile world, local search is no longer a wish list item; it's a must. When someone is searching in your area for what your business offers, you want them to find you.

Organic / On-Page Search Engine OptimizationTo maximize traffic, your website needs a sound search engine marketing strategy. Appearing prominently in organic search results can give a tremendous boost to your business.  We will optimize your pages with strategically placed keywords to appear as highly as possible in search engine results.

SEO Audits
We will analyze your site to find the most effective ways to improve your visibility.